Enjoy the beauty of Okinawa at your ownpace with this self-drive package! It includes a rental car, English GPS, roundtrip flights and 4 nights accommodation with breakfast.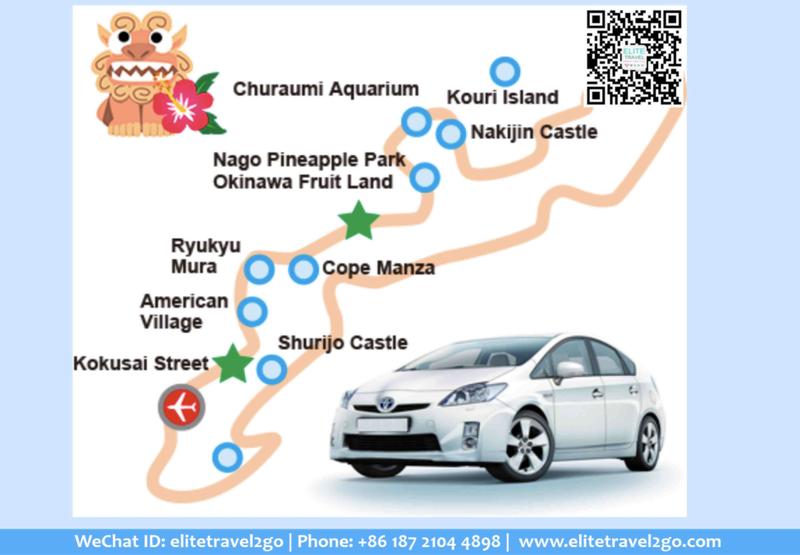 CAR TYPE
* Rates apply to P1 Class Toyota Type (1000cc, good for 2-3 passengers) or W1 Class (1800cc, good for 4-6 passengers). Other car types available on request.
* Cars are equipped with English and Chinese GPS. Non-smoking cars are available, subject to confirmation.
* An English or Chinese road map is included. Map code will be giving upon confirmation.
* Children under 6 must have a child car seat by law. Please inform us when you make a reservation. Child seat is free of charge, subject to availability.
CAR RENTAL REQUIRMENT
You will need a Japanese driver's license OR an International Driving Permit (IDP) issued under the 1949 Geneva Convention to the car rental company in order to rent and drive a car.
Belgium, France, Germany, Monaco, Slovenia, Switzerland and Taiwan do not issue International Driving Permits based on the 1949 Geneva Convention. If your driver's licence was issued in one of these countries you will have to request a Japanese translation of your licence. You will then be able to drive in Japan with your original driver's licence and the translation. A translation can be obtained from the Japan Automobile Federation (JAF), or from some of the respective countries' embassies or consulates in Japan. To make sure the rental process is hassle-free, we can take care of these formalities for you. We will provide you with your driver's licence translation within 3 weeks, for cost of RMB 400 only. All you need to give us to request the translation are:
a) A color copy of both sides of your licence
b) The address where you would like to receive your translation
c) The date on which you plan to travel to Japan
DON'T WANT TO RENT A CAR?
If you don't want to rent a car, the package price is RMB 5,500pp includes round trip airport hotel transfers.
Trip itinerary can be customized. Contact us for other resort/hotel options and to rearrange your hotel stay. For example, you can rearrange your itinerary to all 4 nights in resort or in city.
SaveSave